Welcome to DNT Imaging:
Full-Service, Fast, Great Prices, Free Local Pick-up & Delivery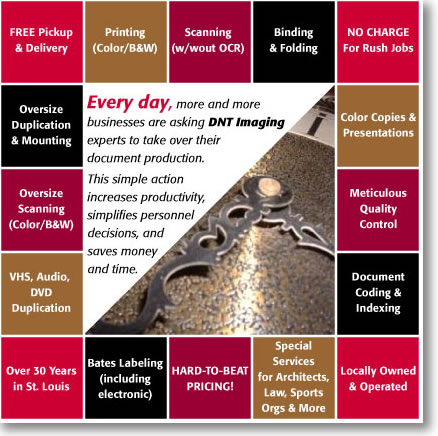 When you don't have the in-house capabilities, staffing, or time to get the job done, DNT Imaging is here to help with all your imaging needs.
Online or in person, DNT Imaging provides fast, quality, cost-conscious document production and scanning services to your most exacting standards.
As a proud sponsor of the St. Louis Paralegal Association, we offer specialized services for litigation support. In addition, we provide oversized printing and scanning services tailored to the special needs of architects, marketers, and sports organizations.
Get Started
To get an estimate or start an order online, click on the links in our Customer Utilities at right. Or, give us a call at 314-446-0901.